Real-time analysis of mechanical and electrical resonances with open source sound card software
Publication
G Makan, K Kopasz and Z Gingl, Real-time analysis of mechanical and electrical resonances with open-source sound card software, Eur. J. Phys. 35 (2014) 015009
Download e-print: arxiv
Assembling help
Software download
Hardware and software descriptions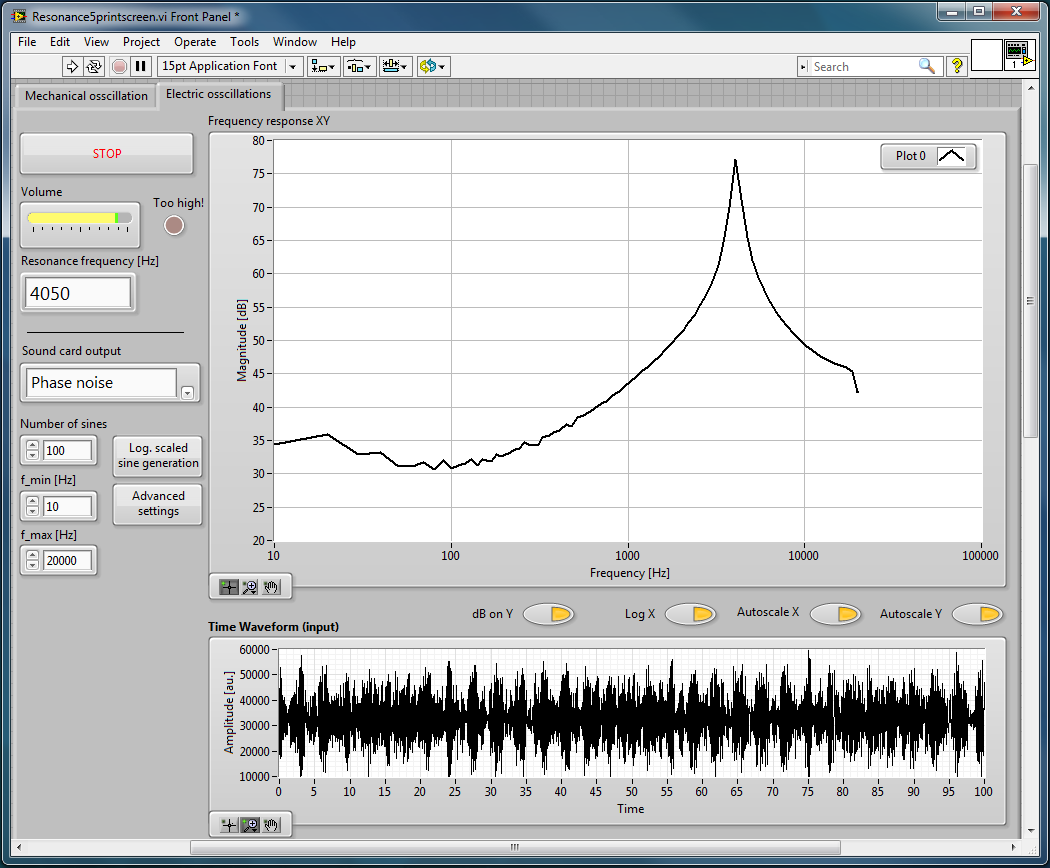 Looks of the software. On the main graph there is the frequency response of the RLC circuit. On the lower graph there is the measured time based signal of the output of the RLC circuit's output. There are controls and indicators on the left side of the program. The level of the excitation is adjustable out of the program.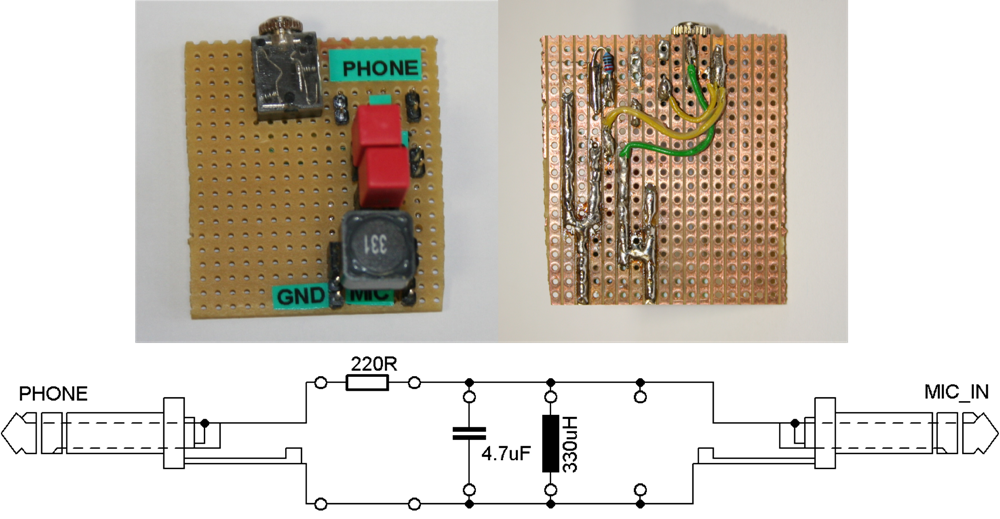 The parallel RLC circuit built on the perforated prototype board and its schematic diagram. The components are connected with jumpers because of making different type of configurations.

CNY70 type optical sensor and the USB connector built on a prototype board on the left, the tuning fork with a reflecting plate on its stem and the opposite placed prototype board on the right.

The speaker excites the resonator box of the tuning fork placed in front of it. The modulated light of the infrared LED supplied by the USB port is measured by the phototransistor connected into the microphone input.
Bill of materials
2 x 220 ohm resistor
2 x 4,7 uF capacitor
1 x 330 uH inductor
1 x air core inductor
1 x JM-2BK-61: jumper (alternative SNT-100-BK-G)
1 x SL1.025.36Z: single row 2,54 mm pin header (20 pins needed)
1 x CES-116-01-T-S: single row 2,54 mm receptacle (20 receptacle needed)
3 x JY39-3P: mountable 3,5mm mono jack connector (alternatives: JY39-5P, LUMBERG 1503 09, SCHURTER 4832.232)
2 x PRO SIGNAL AV02013: 3,5 mm mono jack cable
1 x LUMBERG 2411 03: USB-B socket
1 x CNY70: phototransistor with infra LED
4 x LUMBERG - 1532 06 - JACK PLUG, 3.5MM, 2-POLE, MONO
2 x 1m cable with 2 conducting wire
The publication/presentation is supported by the European Union and co-funded by the European Social Fund. Project title: 'Telemedicine-focused research activities on the field of Mathematics, Informatics and Medical sciences' Project number: TÁMOP-4.2.2.A- 11/1/KONV-2012-0073.

Last edited: 2014.06.12.